GIRL AMBASSADOR PROGRAM

Girls For A Change (GFAC) was formed in 2000 with the mission of empowering young women by inviting them to design, lead, fund and implement social change projects that tackle issues girls face in their own neighborhoods. Since 2013, GFAC has focused more deeply on the empowerment and uplifting of a population whose needs are most unmet—Black girls and other girls of color.




In February 2020, I partnered with

Girls For a Change

to introduce a workshop series titled,

Intro to Coding for Community

for their

Girl Ambassador Program

. In this program girls attend workshops throughout their four-year (high school) experience in order to acquire leadership skills, financial literacy, and tools that will prepare them for working in today's technology fields.

For the

Girl Ambassador Program

, I proposed the

Intro to Coding for Community

workshop where I designed and taught the curriculum, designed educational media and resources, scripted and recorded videos for asynchronous learning, adapted the curriculum overtime to meet the girl's variety of learning styles as they were revealed and worked with the GFAC staff to coordinate the logistics of in-person and virtal instruction delivery.




The Intro to Coding for Community workshop series is inspired by the research of Ruha Benjamin and her book, Captivating Technologies, where she outlines the negative and positive impact of technologies on black communities and how we can instead use technology to collectively imagination and build a liberated future. First, this workshop invited the girls to reflect on their neighborhoods and dream up a community initiative they would love to see activated there; this could be anything from a space program at their community center, a fashion design program in their high school, or an art museum them and their friends curate. Second, after imagining this community initiative they will move to learning the skills around "building a narrative" around this initiative — this includes learning the basics of Frontend Web Development, Professional Writing/Copywriting, Graphic Design, Brand Development, etc. Lastly, at the end of the workshop series the girls will present their community initiatives in a "Science Fair" (show and tell), giving them practice in presenting and proposing their ideas to a broader audience.





PHASE 1
---
Imaginative Community Initiative Ideation
PHASE 2
---
Girls learn the basics of HTML, CSS, and Git to build a static website hosted via Github Pages.
PHASE 3
---
Learn the basics of "Narrative Building" (communicating an idea) through Writing, Graphic Design and Photo Editing. Prepare for Science Fair.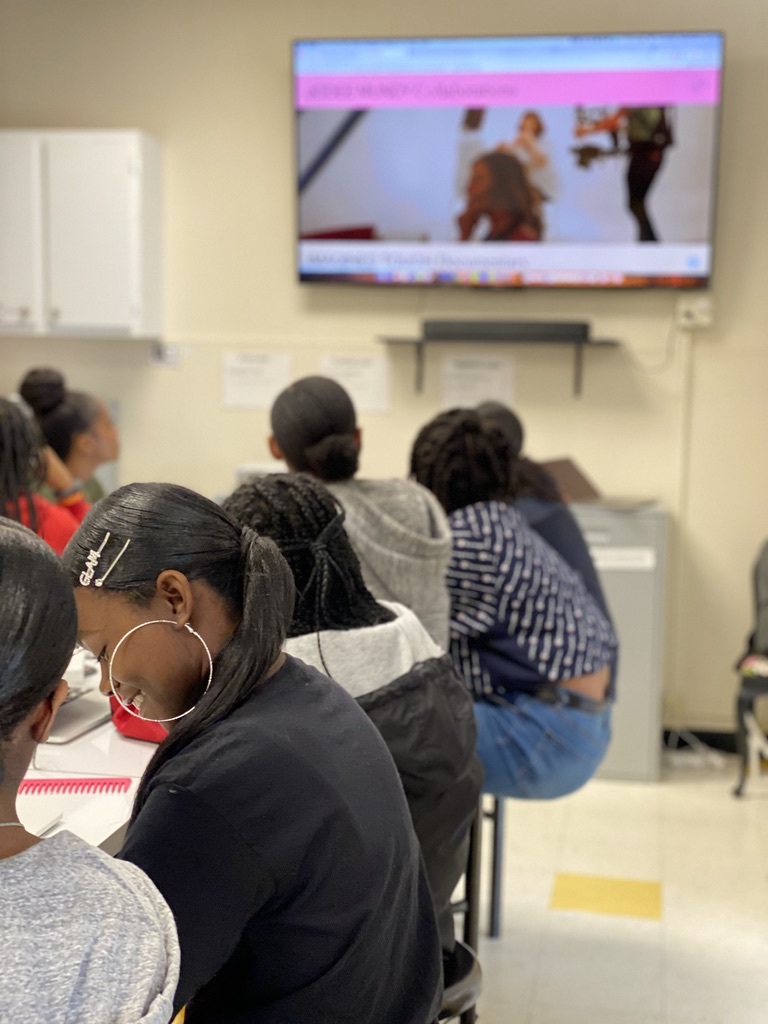 The goal of this workshop series is to inspire them to think big, without boundaries, and imagine a local initiative as a subtle exercise in illuminating what cultural work they may be interested in. If the girls dream up an initiative they'd like to see in their neighborhood, it may plant the seed for them to envision themselves being the one to help launch that initiative — giving them a starting point for what discipline they should explore, what they should research/study in school, and what additional skills they may need to gain. The learning outcomes of this program is to inspire the girls to stretch their imagination, inform their social practice, and learn relevant skills through the creative project of building and communicating an idea for an initiative they'd like to see in their community. They are the dreamers. They are the creators. They are the ambassadors.




The workshop started in-person instruction in February. In March, COVID-19 descended mid-workshop but that didn't stop the learning! With the help of the GFAC staff and board member,
Chris Fullman
, we were able to coordinate the cleaning, set up, and distribution of the MacBooks to all the Girl Ambassadors.
PHOTOS VIA CHRIS FULLMAN
Through this highly coordinated team effort we were able to transition the workshop to virtual instruction via Zoom and I was able to adapt the curriculum to support remote learning.